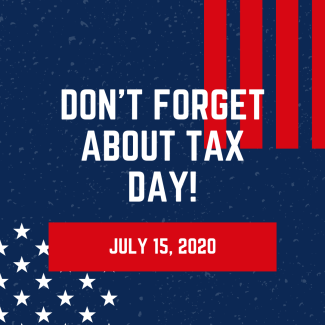 Don't Forget – Tax Day is July 15th
By: Susan Powers
July 15 is not a day that we usually associate with a tax deadline.  Like many other things this year, it's a different date and you don't want to be caught by surprise. 
Tax Day, July 15
Remember, the filing deadline and tax payment due date for 2019 were postponed from April 15 to July 15 due to COVID-19. 
While there was some speculation that the deadline may change again, the Department of the Treasury and IRS announced on June 29 that the deadline of July 15 will not be postponed further.
File for an extension –
If you need more time, you can file for an automatic extension to October 15.  However, you need to complete your filing by July 15.  Remember - the extension provides additional time to file the tax return – it is not an extension to pay any taxes due.
RMDs for 2020 – 60 day rollover extended to August 31
The Cares Act waives required minimum distributions (RMDs) for this year, including for inherited IRAs.  If you took a RMD in 2020, you now have until August 31 to roll those funds back into your retirement account and avoid paying taxes.
As always, we urge you to consult with your tax professional on the details of your specific situation. 
If you have any questions about your financial plan and how a tax-efficient strategy can help you to reach your goals, we would love the opportunity to talk with you.  Call or email us at info@assetgrade.com.