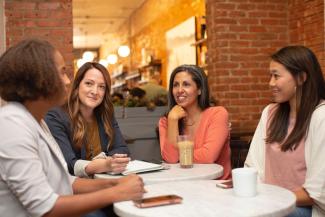 Women and Financial Planning
WOMEN HELPING WOMEN BY SHARING THEIR FINANCIAL JOURNEY
Listen in as Susan Powers & Kate Hennessy welcome four clients to a Special Edition of "Your Money" with Professor Kent Smetters on Sirius XM Wharton Business Radio, CH 132
Susan and Kate welcome four clients who speak openly on how, when and why they decided to save, invest and plan for their financial future, and how their decisions impacted the direction of their financial journey through life. This candid discussion provides other women with lessons learned and some reassurance that we are all in this together.
If you wish to hear the 
full radio broadcast, please click here. 
Lizabeth Boeckmann Explains How to Teach Kids to Manage Their Money
Alicia Lingenfelser Balanced a New Business with Family Crises
Lisa McLeod Explains How Women Think About Money
If you are not a Sirius XM subscriber, you can sign up for free at: Sirius XM