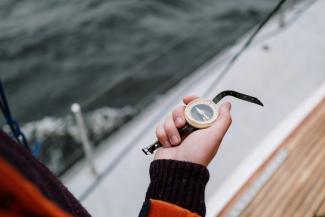 Wild Stock Market? Stay the Course.
By: Patrick Cote, CFA, CFP®
As we near the end of the year, it is worth taking a step back to think about where we are from an investment perspective.  Although 2020 has been a challenging year for society as a whole, both stocks and bonds have posted good returns year-to-date.
With the recent announcement of three successful COVID-19 vaccine trials, the investment markets are already looking past the pandemic and appear to be pricing in a return to normalcy in the near-term.  In fact, with many governments around the world poised to continue to stimulate their economies with increased spending and central banks announcing their plans to keep interest rates low, we could see additional significant gains for stocks around the world.
However, it appears that we are going to see a big surge (or surges) in the pandemic this winter before any vaccines are broadly available as people shift to indoor activities with the colder weather.  We could very well see additional bad news this winter related to the pandemic.
Even if the headlines are dire, it will be particularly important this winter to stay the course investment-wise.  There could be additional market volatility related to the Senate run-off elections. As always, do not try to time the market, especially for your long-term portfolio.  If we do experience any market volatility, remember to ride it out and take advantage of any market dips to rebalance your portfolio. Have a safe, happy, and healthy holiday season!