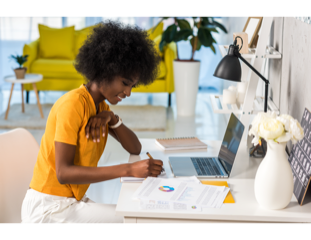 By: Susan Powers, CFA, CPA, CFP®, CPFA
Millions of Americans are taking a step back and rethinking their work lives amid the "Great Resignation", more recently termed the "Great Reshuffle", as they seek remote options, flexible work hours and life beyond work.  Are you among those considering a change?  What else should you consider before taking the plunge?
KEY POINTS
More than 47 million people walked away from their jobs last year according to the U.S. Department of Labor.
Data suggests most aren't quitting to sit on the sidelines — a strong job market with ample opportunities and higher pay are luring them to change jobs, find work in new locations and some are reinventing their careers altogether.
A holistic financial plan offers you a roadmap toward a successful outcome and provides tools to help you make the optimal decisions for your future.
Nearly 4.3 million people quit their jobs in January 2022, just shy of the monthly record set in November 2021, according to recent federal data.
Some 53% of employed U.S. adults who quit their job in 2021 changed their occupation or field of work at some point last year, an analysis from Pew Research found.
Yet they aren't all looking for a new company to work for — many have opted to go into business for themselves.  In fact, there was a surge in new business formation last year, with applications hitting a record 5.4 million, according to the Census Bureau.
It turns out, what job-seekers want most is work-life balance according to a recent LinkedIn report that found 63% named it a top priority when picking a new job. 
The proliferation of remote work since the start of the pandemic, has provided many more options not only for employment but where you can live driving activity and prices in the housing market.
These are big transitions in life, turning points you can address with more confidence when you have a financial plan.  If you don't have a plan, there's no better time to get one.
Are your emergency savings sufficient?  If you're one many who are now self-employed, you may want to increase your level of savings.  If you had 6 months of expenses saved previously, increasing it to 9-12 months is more appropriate.  Life and disability insurance needs to be considered as well. 
If changing jobs, consider the total benefits package available.  Tax-free and tax-deferred contributions from you and your employer can have a substantial impact on your ability to accumulate wealth during your higher earning years. Having health insurance benefits prior to age 65 when you are eligible for Medicare is another significant consideration.  
A flexible, holistic plan can help bring you peace of mind as you consider all the changes life brings.  Helping clients create and bring that plan to life is why AssetGrade was created.  Let's talk about your plan!