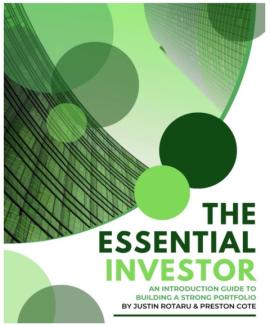 Getting Started with "The Essential Investor"
By: Patrick R. Cote CFA, CFP®
Many of our clients have asked us how they or their family members can best learn the basics of investing.  They don't necessarily want to start making trades themselves, however they do want to understand the key elements of investing.  The challenge in doing so is that there is so much information available that it is not clear where to start.
I mentioned this challenge last year to my younger son, Preston, who is passionate about investing.  He thought it would be useful to set up a website to help people learn about investing, www.myinvestingguidance.com.  In 2023 he followed up his effort to educate interested investors by co-authoring a book on the topic, "The Essential Investor," along with his friend, Justin Rotaru.  They have published the book on Amazon and have received favorable feedback.  As a proud father, I will add that they are both in high school and pulled the book together on their own!
A key part of Preston and Justin's book is that they cover the major investing topics that most people may have heard of, such as stocks, bonds, mutual funds and cryptocurrencies, yet they manage to explain them in plain English and use straightforward diagrams.
While I admit to at least a slight bias with my recommendation, if you or someone you know is interested in learning more about investing, "The Essential Investor" is a great place to start.
As always, we are happy to speak with you about any questions you may have about investing in general or about the specifics of your investment portfolio.