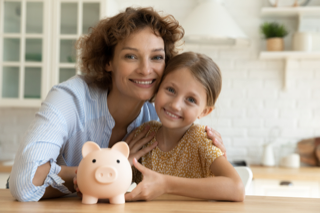 By: Kate Hennessy, CFP®
This time of year, it's hard not to think about college.  From young adults packing up their cars to Saturday football games, college is in the air.  In this month's newsletter are two articles about saving for college, one from the perspective of a parent whose children are one to three years out from starting college, and the second from a parent who is six to nine years out from beginning college. College planning is a topic that can easily cover the lifecycle/investing span of 20+ years, so we wanted to break it down into two sections. Below are three tips to consider when planning for college for a child(ren) who are years out from entering college.     
Save Early Because Costs are Rising – Sadly, with the ever increasing cost to attend college, paying for college is a huge challenge for most families. However, if you start saving as soon as your child is born , you can enjoy the benefit of compounding, as even small contributions will add up to big returns over time . In order to fund 100% of a 4-year private college, parents need to save $1,000/month in a 529 plan from the day their child is born. It is not necessary to save the entire amount in a 529 plan, in case the child goes to a state school or has large scholarships.  If parents have the available cash, saving $600/month in a 529 plan is a good level to avoid over-funding, although parents will likely need to draw from accounts beyond the 529 plans to cover the full costs in the future.  Put college investing on autopilot.  Open a 529 Plan and make automatic contributions from your bank account or paycheck.  Two-thirds of 529 plan users have their plans linked to their bank account or paycheck. The chart below shows the true benefit of compounding-
Discuss the Cost of College with Your Child – Begin to have a conversation about the cost of college when your child is in junior high.  It's an appropriate time as they are starting to learn more about finances, and the connection between work, earnings, and expenses. In high school, your child may begin talking about colleges with their friends, and most high school students associate a college with a sports team, status, or a name.  Students often have minimal knowledge or understanding of college costs or the   difference of costs between various schools.  Discuss college's expected return on investment.  Consider starting salaries before choosing a major. D iscussions o f college costs will be a series of conversations over time, and students should walk away with a better appreciation of the investments their parents are making.
Be Realistic About Free Scholarships and Financial Aid – even as a parent whose children play sports year-round and as some one who has spent thousands of dollars on sports and activities, the likelihood of our child receiving an athletic scholarship to a Division II school is 1-2%.  Most families don't qualify for free grants or scholarships, and for those that do, the grants and scholarships only cover a small amount of the college expense. The average amount of need-based grants received by families in 2021 was $4,914 per family; the average amount of merit-based scholarships received was       higher at $7,355 per family. 
In sum it's important to be aware of the rising costs of college and benefit to saving early and consistently. Having a n honest conversation about the cost of college, will make your child more aware and appreciative of the sacrifices that parents make. Contact us if we can help with your college funding questions.